Thermal insulation coat with polyurethane foam slab with saturated glass fleece on the sides.
Tipo struttura
Muratura perimetrale con isolamento termico a cappotto con lastra isolante.
Particolare
Stratigrafia prodotti.
Ciclo applicativo
Intonaco civile interno.
Muratura in laterizio (o in alternativa calcestruzzo, blocchi in cemento, blocchi in cemento cellulare o cassero a perdere in legno cemento ecc.).
Collante RALLK K OttO applicato sul perimetro esterno del pannello e per punti interni.
Isolamento termico a lastra in schiuma poliuretanica espansa con velo vetro saturato sulle facce.
Rasatura dei pannelli isolanti con rasante RALLK K OttO con annegata rete in fibra di vetro di grammatura maggiore di 150 g/m2 da porre in opera con stesura dall'alto al basso, utilizzando adeguati profili d'angolo e avendo cura di sovrapporre per almeno 10 cm le varie fasce verticali.
Rasatura con rasante RALLK K OttO o in alternativa con RALLK Rasante K lavorata a frattazzo di spugna preparativa per la pittura finale o tonachino colorato in pasta a base minerale (ai silicati, silossanico, acrilico, alla calce).
Informazioni addizionali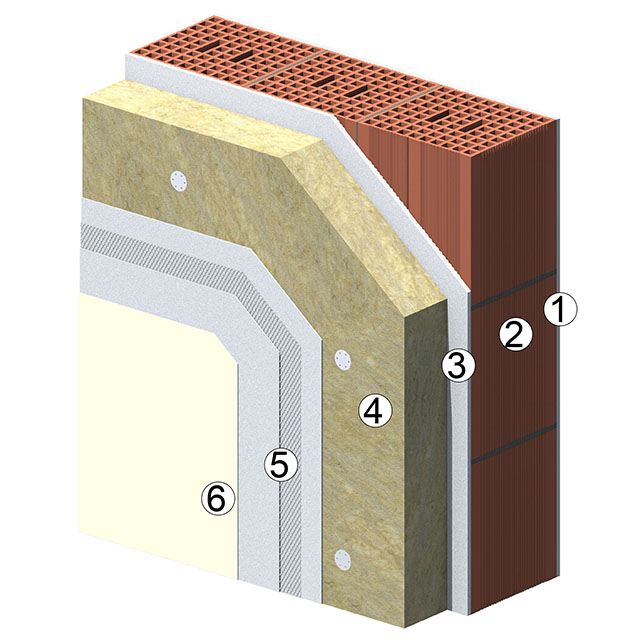 Categorie
Scarica PDF